Anza-Borrego

I've been west for a little over two years now. There are moments of complete disorientation and others of calm observation, but to say I feel planted in the landscape would be a stretch. It's new, raw, stunning, scary and bigger than I could have ever imagined. In early March 2023 we rode Anza-Borrego Desert State Park for three days. After a wet winter, small signs of spring were starting to show. For the first time since I've been living in California the desert felt more alive than not—lucky to have seen it.
---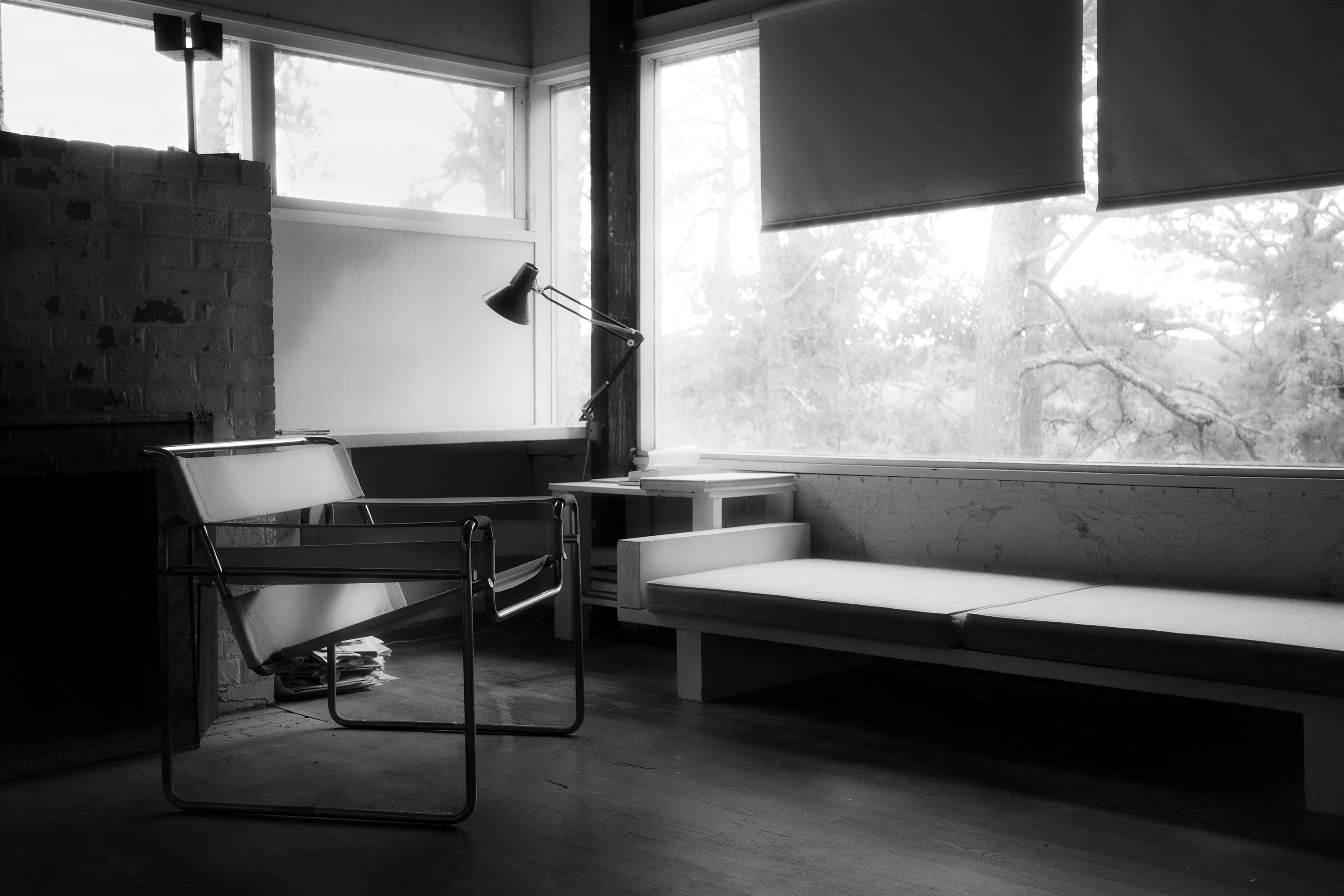 New Americana
Photographs from home for Pin-Up magazine—a brief survey of architecture on a small spit of coastal New England land.
"...Gropius was similarly captivated by the "fine wooden houses in the Colonial style, painted white," as he wrote to Breuer after his 1937 arrival in New England, where he began teaching at Harvard's Graduate School of Design. "[These Colonial houses] will delight you as much as they do me. In their simplicity, functionality, and uniformity they are completely in our line." Breuer, at Gropius's recommendation, also took on a teaching role at Harvard that same year, and soon found his way to Wellfleet, where he would build a series of cottages that followed through on his "long house" concept: a rectangular, wood-framed box suspended in the air above a platform in stone or concrete. At Breuer's 1949 Wellfleet cottage, the screened-in porch juts out over the landscape, overlooking three ponds. As he explained to
Sun and Shadow
, in 1955, as well as the classic house sitting on the ground, "there is the house on stilts, that is elevated above the landscape, almost like a camera on a tripod. This will give you a better view, almost a sensation of floating above the landscape, or of standing on the bridge of a ship. It gives you a feeling of liberation, a certain élan, a certain daring."
Rachel Hahn, from Pin-Up 33, New Americana
Please read here:
Puritanical Thrift Meets Progresive Ideas on Cape Cod...
---
Apple Harvest, Shoreham Vermont
---
Ideas of Electrification

'The gasoline engine is an aggressive machine; the driver, controlling it with his physical skill, tames it, making the speed his own, so that he can exult in the activity of "going." The electric car is more closely associated with the rational pursuit of "traveling smoothly" than with the subjectivity of "going." It is a machine that inhibits the driving—or engine-controlling—aesthetic, one operated according to a dispassionate will to travel in the shortest and most energy-efficient manner… it is expected that technology will shift transportation from the "driving" paradigm, grounded in an active desire to pilot the vehicle, to the "mobile" paradigm, guided by the desire to travel safely and efficiently.'

Kenya Hara, Designing Japan

As an object of design, of innovation and experience I find it hard to parallel anything with the Rivian R1T. And as I looked behind more and more doors at Rivian there is nothing but excitement about the future of mobility. But I do wonder if some of the same mistakes are being repeated. Do most drivers need 400 mile range? Should those resources be more economically dispersed? Are we honest about how we travel? I trust in the Kenya Hara quote above that people are becoming more practical, are seeking less thrill and more rationality in their pursuits. Does 6,000 lb vehicle need to hit 60mph in 3 seconds? As designers when do we accept pragmatism as the lead?



Images made at the Rivian plant in Normal, IL ©AAB
---
The Hatch House

Midway into the pandemic and while in quarantine I spent much of the fall lost in the rhythms of the Hatch House — unlocking some kind of clarity after seventeen years of New York. This interview with Gilly Hatch, the last surviving family member, celebrates the history of the structure, its people and the land it occupies.

'It's hard to describe the setting of the Hatch House, with its panoramic view of the bay, perched on the edge of a kettle hole, with a vernal pool below, and its untrammeled west-facing hillside which takes in the sunset over the water. Since it's in the National Seashore, surrounding development has been frozen since its construction. The cottage itself is a matrix of cubes. Some are single and some combine to make bigger shared spaces. The cubes are connected by outdoor decks that seem to dematerialize due to the decking being laid on edge; making the whole seem to hover a few feet above the ground. The rooms open and close with shutters of different sizes to regulate temperature, air and sun.'

Peter McMahon, Cape Cod Modern
Filmed in fall of 2020 ©AAB
---